Warning: Illegal string offset 'filter' in /customers/4/b/d/bjornthoren.se/httpd.www/blogg/wp-includes/taxonomy.php on line 1442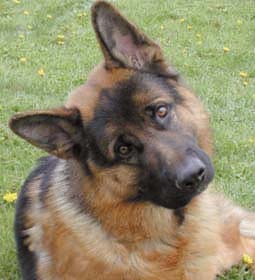 Jag har alltid varit en hund älskare så på vårkanten år 2000 skaffade jag och min son vår första hund, en schäfer, som fick namnet Othello. Meningen var att träna Othello till att bli en servicehund men det skets sig duktigt. Han var alldeles för ivrig för att passa till det och jag var på tok för grön som hundägare för att klara av en sådan uppgift. Nu skulle det visa sig ganska snart att Othello hade andra färdigheter som han generöst och mer än gärna bjöd på.
Fast jag hade förberett mig i nästan ett år innan jag skaffade Othello så gick jag in i de flesta fällor man kan som nybliven hundägare. Dagen efter vi hämtade hem vår älskade Othello insåg jag att vi skulle behöva hjälp. Det dök upp nya frågor i mitt huvud hela tiden. Med hjälp och stöd ifrån Josta Formeus, en fantastisk hundtränare och djurvän, och med tiden växte jag in i rollen som husse. Samtidigt växte Othello in i sin roll som barnslig, busig och högst personlig schäfer hane.
BUSIG SÅ IN I NORDEN
En natt vaknade jag av att täcket gled mycket sakta och försiktigt ner mot fotändan på sängen. Utan att tänka mer på det drog jag upp täcket igen och kastade en blick på klockan som gäspade 04:30. Jag somnade om men vaknade igen av samma sak fast nu hördes också ett lätt dunkande ljud. Innan jag hann registrera vad som höll på att hända så försvann täcket med ett svisch..! Det var Othello! Han drog av mig täcket och svansen dunkade mot klädkammarens dörröppning.
"Men vad gör du! Kom hit, Othello!", suckade jag trött och irriterad. Jag såg hans svans kasta skuggor ute i vardagsrummet och när jag satte mig i rullstolen såg jag hur han hade halva täcket i munnen. Innan jag ens hann till vardagsrummet hade han förflyttat sig till hallen där han hade intagit sin lekställning, tassarna framåt och huvudet nära golvet och rumpan upp i vädret. Ju närmare jag kom dessto högre blev hans speciella lek- och bus skall, som var en blandning av skall, gnäll och ett gurglande ljud fylld med massor av glädje och förväntan. När jag var en meter ifrån honom försvann han som en blixt ut i köket där han ställde sig bakom köksbordet – på mitt täcke!
Han visste mycket väl att jag INTE kunde nå honom bakom köksbordet. Det var hans ställe, där regerade han. Othello var mäkta stolt och gläfsade till och gjorde allt för att imponera på mig och på att få igång sin husse. Men jag var trött och ville bara lägga mig igen. "Kom igen, Othello! Jag orkar inte busa nu, klockan är kvart i fem..! Jag skiter i täcket för jag har ett täcke till, ha, ha, haa!" Det var hur svårt som helst att hålla sig för skratt. "Nu går jag och lägger mig, hör du det!" Jag fick anstränga mig duktigt för att inte vända mig om eftersom han såg ut precis som på bilden ovan. Jag la mig i sängen, drog täcket över mig och innan jag somnade hörde jag Othello ute i köket. Det tog inte speciellt lång tid innan jag väcktes igen av att täcke nummer två sakta och försiktigt drogs ner mot fotändan och innan jag ens hann tänka så åkte täcket av med en jädrans fart. Vad som hände sedan och vart jag hittade busfröet Othello? Ja, det tror jag nog ni kan lista ut. I köket förstås..!
En annan favorit syssla som han hade var att skrämma slag på cyklister, han vände sig om och såg cyklisten långt där borta, men han fortsatte och nosade runt som om han inte hade registrerat någonting. Men när cyklisten hade precis cyklat förbi då skällde han till och drog i kopplet. Jäklar vilken fart det blev på vissa cyklister..! Vi tränade bort detta beteende eftersom det kunde ju bli farligt men fast han visste så kunde han ibland, speciellt om han var ute med någon annan än mig, skrämmas lite. Jag saknar min busunge så mycket.
Vi hade förmånen att ha Othello hos oss i lite mer än tre år innan jag blev så dålig att jag inte längre orkade med att ge honom det han behövde. Utan Jostas stöd och hjälp hade det inte blivit tre underbara år som jag och Johannes alltid kommer att bära med oss.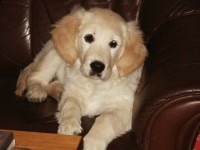 Chakina – the one and only ladygirl!
Othello flyttade till Linköping och hans nya husse berättade att matte också satt i rullstol så när han kom till sitt nya hem hade han sprungit fram till henne och lagt huvudet i knät. Han var van rullstolar. Det blev tomt efter Othello. Efter några år när jag kände mig bättre ville jag testa om jag klarade av och orkade ha hund igen. Vi hittade en fantastisk valp, en golden tik, som fick namnet Chakina. Jag hade deala med uppfödaren att de skulle få tillbaka henne om jag inte orkade. Vi hade Chakina i tre månader och det var fantastiska månader och jag blev så förtjust i rasen men också av att ha en tik. Hon var så mjuk och lydig och otroligt lyhörd. Om jag någon gång i framtiden vet att jag orkar så blir det en golden tik igen. Fast nästa gång kommer det bli för alltid för jag klara inte av att skiljas från en hund igen. Nej, aldrig mer.
Ja, nu vet ni lite om mina hundar, Othello och Chakina. Du kanske har eller har haft egna hundar och vill berätta om det. Länka då till mig eller så skriv en liten kommentar så hittar jag dig/er.
Ta hand om er!
Nalle