Forts… "Nästa gång är nog!" Våga be om hjälp!
Warning: Illegal string offset 'filter' in /customers/4/b/d/bjornthoren.se/httpd.www/blogg/wp-includes/taxonomy.php on line 1442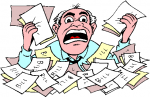 Jag nämnde hur krångligt livet har blivit men fastnade vid gårdagens äventyr med akuten och hjärtkoll med mera så jag fortsätter idag med att berätta hur mitt arbetslösa liv ser ut med en reumatisk sjukdom och omfattande funktionsnedsättning – observera att jag inte klagar utan bara berättar hur det är. Livet alltså..! (Med bäst förbehåll läses detta inlägg med viss form av ironi..!)
Det är många saker i en funktionsnedsatt persons liv som har blivit bättre om jag jämför mot hur det var för 20 – 40 år sedan men eftersom människan i sin natur vill utvecklas och förbättra sitt och andras liv så har de senaste tjugo åren svajat ganska rejält om du lever ditt liv med sjukdom eller/och funktionsnedsättning. Framför allt om du är beroende av samhällets insatser som jag rapar upp här; sjukpension, bostadstillägg, kommunalt bostadstillägg, handikappersättning, färdtjänst, bilbidrag, anskaffningsbidrag, bilanpassningsbidrag, sjukvård, sjukgymnastik, mediciner och olika slags sjukvårdsinsatser i hemmet, samt anpassningar i hemmet och olika sorters hjälpmedel, personlig assistans och andra LSS insatser. Riktigt jävla krångligt blir det om du har ett behov av de flesta eller samtliga av dessa ovan nämnda insatser eller har ett behov av ännu fler insatser – eftersom de flesta utreds med olika utredare, myndigheter och sker per årsbasis eller två årsbasis.
Alltså om man inte passar sig är det lätt att fastna i att hela ens liv handlar om sjukvård och/eller funktionshinder och vad man har rätt till eller inte och hur mycket man orkar kämpa för att få ta del av de insatser som samhället har bestämt att vi medborgare har rätt till. För det är ingen som kommer från myndigheterna och erbjuder vad som finns fast de vet att man har andra insatser. Nej, du måste själv ta reda på vad för slags hjälp du kan få, vilka rättigheter och skyldigheter du har som medborgare, om du är sjuk och/eller har en eller flera funktionsnedsättningar och det kan väl vara okej kanske man kan tycka men de ändrar ju hela tiden reglerna och vad som gäller så det är minst sagt tuff uppgift att vara i behov av samhällets stöd och insatser idag. Så fastna inte i bitterhetsfällan utan be om hjälp! Det är minst lika viktigt som de insatser du får att be om hjälp av en kurator eller liknande.
Nej, jag klagar inte utan jag säger bara som det är. Men innan jag slutar vill jag bara önska er alla en riktigt Glad Midsommar!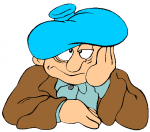 Ta hand om er!
Nalle